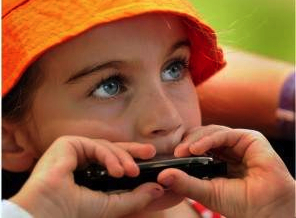 "I cannot express enough gratitude for what you have done for the kids, the harmonica and for Hohner. 
Without you, we would be less of a brand."
~ Clay Edwards, CEO, Hohner Inc.


EXCITING NEWS: 

Gary is honored to be the first harmonica instructor for the prestigious
Pinetop Perkins Foundation's Master Class 2012, 2013, 201, and 2015:

http://www.pinetopperkinsfoundation.org/masterclass13.html


Read this article from Hohner's website about Gary's Blues harmonica school session with formidable challenges:

http://www.playhohner.com/news/a-classroom-of-students-with-formidable-life-challenges-learn-to-play-harmonica/

Read this article from Hohner's website about Gary's Blues session with specially challenged youth in the Mississippi Delta:

http://us.playhohner.com/news/harmonikids-hohner-sponsored-session-in-the-mississippi-delta/
 
___________________________________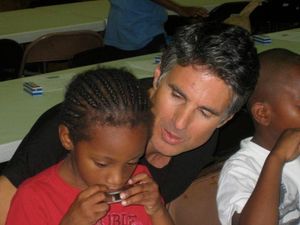 "Your program is fantastic!
You have a real connection with the kids and it was obvious watching you that you love your work.
Keep doing what you do for the Blues and the kids!"
~Chick Cavallero, President of the Colorado Blues Society (2012 KBA Award Recipients) 
(regarding Gary's week-long Artist in Residency program in CO)
"Wonderful! The students were so excited. Several students
(that Gary taught) are going to play the harmonica in our
annual Black History program here at Humes Middle School.
Let's keep the blues alive! "
~Ms. Alisa V Caldwell, Humes Preparatory Middle School, Memphis,TN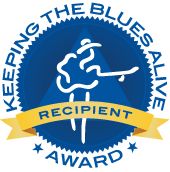 GARY ALLEGRETTO IS A PROUD KBA AWARD RECIPIENT IN EDUCATION

As a child, Gary had the good fortune to wander into a Big Walter Horton performance at a cultural event near his home. The experience changed his life. It led him to tirelessly seek out any information or instruction he could find about the Blues and playing the harmonica in his youth. Sadly, there was little available. Many years later, Gary became a firm believer in teaching music and keeping the Blues alive through education in the schools; naturally, by educating those who will eventually be its future. His programs are award-winning and widely acclaimed and have been widely praised by the Blues Foundation's Blues in the Schools program.

   Gary has visited countless classrooms (elementary to high school) as an ambassador of music and the harmonica, to introduce and teach the very music that runs through his veins. Children across the country have been thrilled and benefited by not only learning about the music, but actually learning to accurately play songs note-for-note on authentic new instruments they get to keep. Beyond his public school sessions, of special interest is Gary's work with children in economically challenged areas and particularly with at-risk youth. His widespread classes have included kids at gang risk in Los Angeles, and he holds regular sessions for incarcerated kids in a juvenile detention center in Delaware, as well as the Martin Luther King School (the first school to open in the Ninth Ward of New Orleans following Hurricane Katrina) to name just a few. On two occasions the Blues Foundation has invited Gary to teach students in Memphis area schools as part of special events for the International Blues Challenge, many of which were in underprivileged areas of Memphis. He has also been invited to teach kids in Memphis' famous Stax Music Academy. In addition, children delight in Gary's workshops featured at many Blues festivals across the country.

Gary's curriculum begins with a brief history of the Blues harmonica and proceeds with an entertaining performance on guitar and harmonica demonstrating the different styles. Audio recordings are played of traditional Blues as the root and origin of modern American music the students are familiar with - including Rock and Rap. Gary then hands out new harmonicas and his unique music sheets that include some of the same familiar riff's they had just heard. The classrooms brim with excitement and self esteem and confidence soar as the students learn and play the first song in under 30 seconds - then quicky learn 3 more within the session! Students are also encouraged to create and perform songs with their own Blues lyrics. Over the years, Gary has heard from many students seeking more information and enthusiastically proclaiming Blues harmonica to be their "new thing". Some are now performing in bands as a result.

Please contact Gary directly regarding fees and scheduling of his programs in your area.
Your Blues society mission is to "keep the Blues alive". Gary delivers your promise by teaching it to the very future of the music - our children. (email: gallegretto@earthlink.net ). 
___________________________________________________________
HOHNER ANNOUNCES A SPONSORSHIP GRANT TO  GARY'S PROGRAMS
 
Hohner is the world's top harmonica manufacturer. As a celebrated educator, performing and recording artist Gary has been an official Hohner endorsee for decades. Hohner recently announced a sponsorship grant to Gary's peerless "Blues In The Schools" programs.

Clay Edwards, President of Hohner, Inc. recently commented, "Hohner endeavors to be a part of everyone's musical life.  If music provides an outlet for these children to express themselves and their condition, then by all means we have an obligation to support and foster it. Gary Allegretto couldn't be better in relating to the children".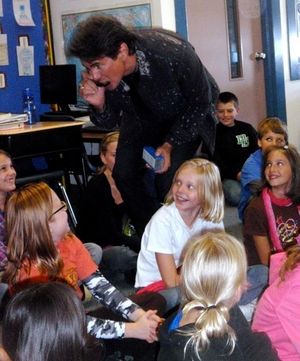 ______________________________________________________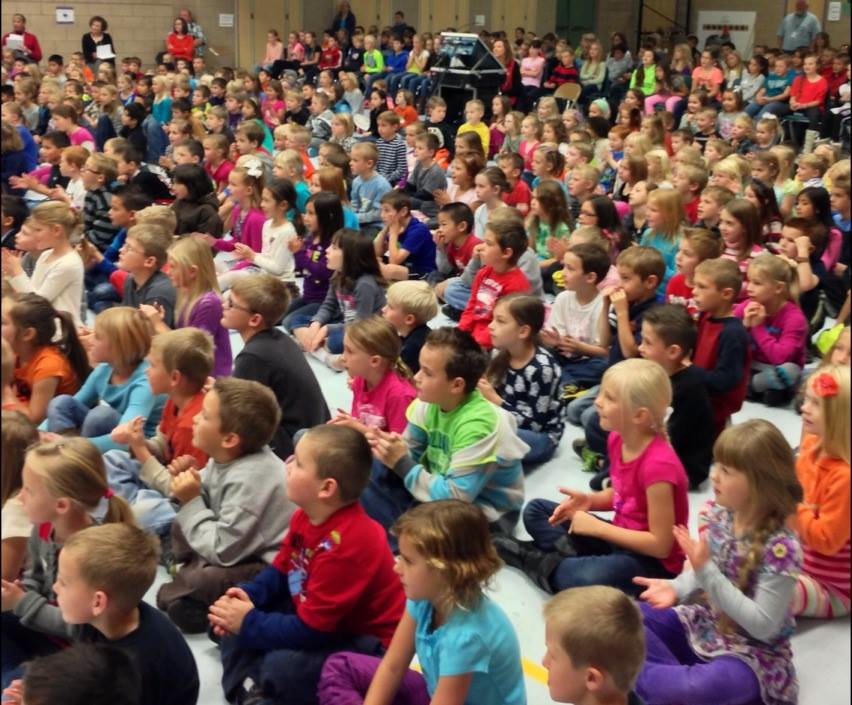 ______________________________________________________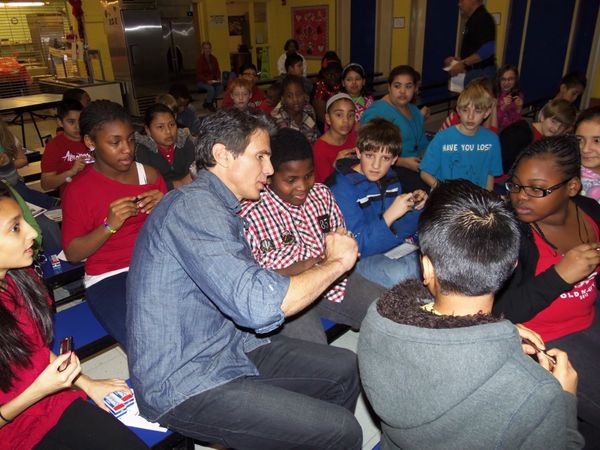 At Gary's joyful session with a 5th grade class at Downtown Elementary in Memphis, one child was particularly high-spirited and inquisitive. He raised his hand to make a comment, and exclaimed loudly "Muddy Waters was my cousin!" Gary asked his name, and he proudly replied "James Morganfield" (of course Muddy Waters' real name is McKinley Morganfield). James was thrilled when Gary taught him how to play the harmonica to Muddy's hit song "Mannish Boy". 

He sent Gary this wonderful thank you card...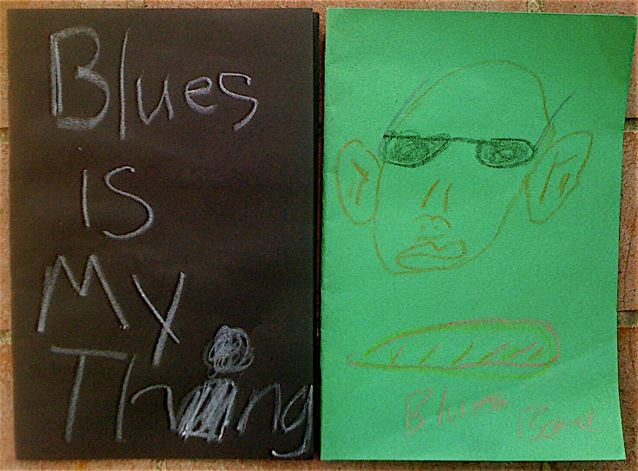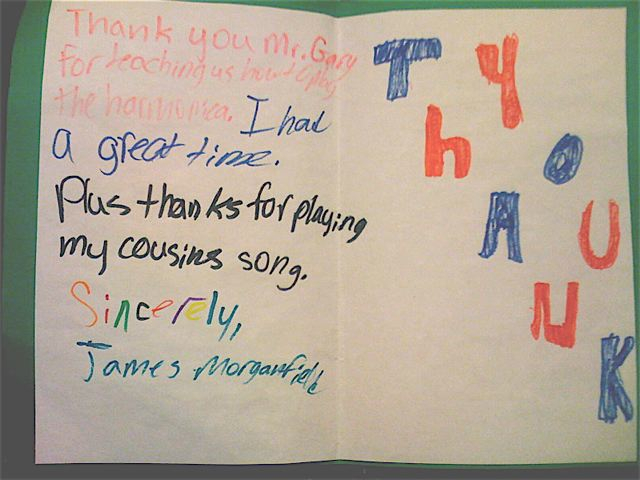 "Thank you Mr. Gary for teaching us how to play the harmonica.
I had a great time.
Plus thanks for playing my cousin's song.
Sincerely,
James Morganfield"